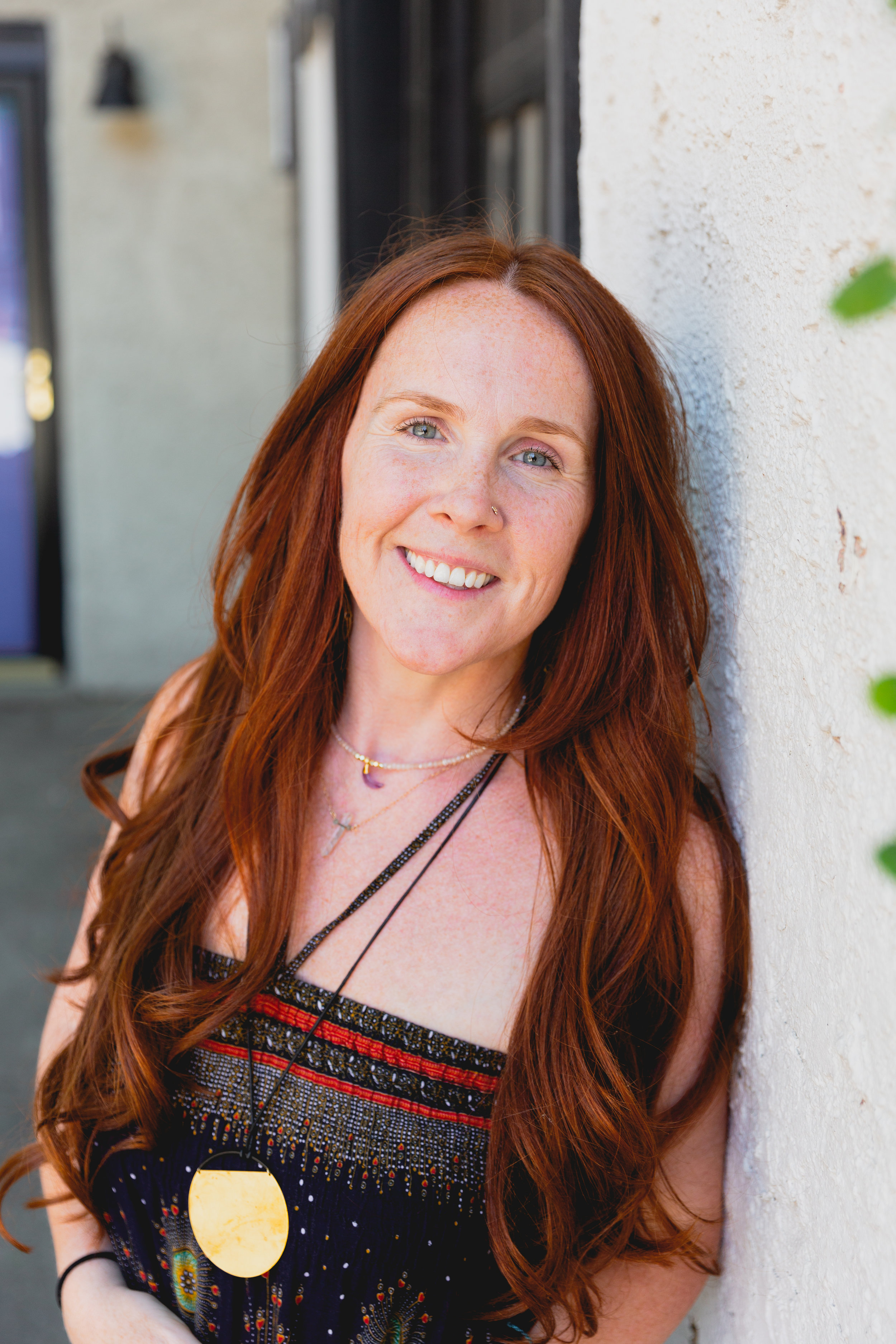 Danielle has been in the beauty business and committed to holistic hair and skincare since graduating from the Aveda Institute in 1995. She has also been a serious student of ancient yoga philosophies and Vedanta since 2002. She is a certified yoga teacher since 2007, completing two 200hr Teacher Trainings including one with Sri Dharma Mittra in Israel. Her yoga lineage is in the Hatha Raja Yoga Tradition. Sri Andrei Ram has been her teacher since 2009 after a Divine meeting while he was subbing a class for Sri Dharma Mittra. That evening everything changed for Danielle and she began her journey of Self-Realization. In 2013 she began her studies in Jyotish (Vedic Astrology) and is certified with the title of Jyotish Ratna through ACVA (American College of Vedic Astrology), she is also one of David Frawley's certified students in Ayurvedic Astrology. Her official studies with herbs began after the birth of her son in 2013 when he developed eczema as an infant. Healing herself with herbs over the last 20yrs, it was only natural to do the same with her children. It was then that she began practicing alchemy, intuitively crafting her own herbal remedies in correlation with astological alignment. In 2017 she began studying herbs in her Celtic birth lineage in the West of Ireland.
Her desire to heal and grow spiritually and help others do the same is what motivates and inspires her. She does astrological consultations, creates planetary beauty products and ritual tools, herbal remedies, teaches yoga and hosts workshops and retreats integrating Vedic Astrology, Yoga and Herbs.
Danielle is the co-founder of Lakshmi Hair Studio, in Olde City, Philadelphia, and the creator of Mothercraft products, an organic line of herbal remedies, teas, oils and elixirs for women and little one's, crafted with intention using Vedic Astrology and Ancient Celtic Moon Wisdom. It made total sense to combine these ancient lineages as there are so many parallels They both have their sacred rivers (Boyne & Ganges) that translate to "Cow" and "White Cow" ,similar goddesses, reverence for the cow and butter, similar flag colors and the Ancient Gaelic & Sanskrit languages are also very similar. It is Danielle's belief that the Vedic connection to the Cosmos and the Celtic/Druid connection to the land and earth create the perfect "as above, so below." As a Yogini Danielle has really discovered the importance of grounding within her practice and life and also an acknowledgment and reverence for her birth lineage while practicing Yoga, as she chose this birth, in this Irish DNA body and family for a reason and the remembrance of that along with past Karmic ties is essential for evolving spiritually! Integrating the two rather than adopting a new way of living and forgetting about the other.
From an early age Danielle had a very strong intuition. There were regular insights, spiritual experiences and an inner knowing of a non physical reality. Mysticism and synchronicity were always interwoven in her life and her intuition has guided her every step of the way. Throughout this incarnation she has become very familiar with the darkness and the light. Descending into the depths of addiction and rising like a Phoenix from the ashes. She has a gift of connecting deeply with people and has spent the last 10 yrs professionally coaching others. Taking pilgrimages to sacred places all over the world and experiencing initiation from the lands is something that has assisted her greatly on her spiritual journey, igniting her Remembrance. This is a gift that she looks forward to sharing soon. Danielle birthed both of her children at home reflecting her deep trust in herself, the Stars and Great Spirit and the remembrance of the power all women behold within. Her births were both considered "late" passing 42 weeks with her sun Arjun and the second birth of her daughter Nokomis Moon culminating at 44 weeks forcing her to shut the world out and go within and "trust." Sadly this society does not support women in their birth journey and going to any lengths to protect her and her babies was paramount. Noko Moon arrived just after midnight on Samhain (Halloween) the ancient Druid time when the veil between worlds is said to be the thinnest and the ancestors can pass through easily. Clearly her baby had a plan and a particular Star Map that her soul needed to evolve spiritually. And clearly, this was to be the initiation time for Mama. Her approaching and walking through these thresholds and initiations of birth has changed her in ways she'd never anticipate...nothing is the same anymore! The trust and surrender required to sustain the last pregnancy opened up a Divine Portal and thinned the veil into places of ancestral connection. Awakening to these truths has been the most enlightening journey for her to date!

is an alchemical, intuitive and creative expression of all the things Danielle has a passion for, practices and embodies. Whether it's creating herbal remedies, teaching yoga, doing astrological or herbal consultations or hosting workshops/retreats, the intention is the same. To connect people to that source inside them so they may become their own healer and teacher. Mothercraft was born out of a necessity to make a cream that would soothe her children's eczema. It took over a year to perfect this recipe and one evening she brought it to her Moon Circle to share with the women and after everyone encouraged her to package it. The Triple Goddess Cream was the first product for quite some time. During a pilgrimage to Mt. Shasta she was visited by a Raven and Spirit Guide having many visions communicated to her that there would be more with Mothercraft along with assistance from the cosmos. Deep trust in this encounter has inspired her to allow her path to unfold. About two weeks later she awoke on Guru Purnima, her lunar birthday and the day in Vedic culture where the Guru is celebrated, and was inspired to create. By the end of that day she had 9 more products. Most of these products were recipes she had been using for years on her family. This inspired more alchemy and for her to channel other days, with specific lunar influence, besides the full moon to craft her products. What started as a Full Moon Sadhana to connect to her birth moon and ease her babies skin turned into a journey of alchemy, understanding and relating to the plant spirits, planets, elements, moon and nakshatras in a much deeper way.